Fun. That's what it was this evening. Here's the set List:
You Know
Dogs at the Door
We Get Over
Rehearsing Our Goodbyes
Gravity
Feeling Good
A Jerk's Lament
Jesus In Chains
Mind This Mind
My Fear of Losing You
Tonight introduced the first ever use of the Animoog in my live shows. In rehearsal I've been putting it on my knee to play "You Know" but I failed to account for how smooth my suit is. The damn thing kept slipping off so I had to put it aside. I play it with my toes for "Dogs at the Door" and it went pretty well. Joe even got a picture: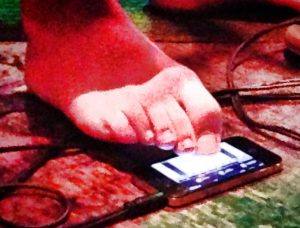 I capo'd the wrong fret for "Jesus in Chains" and ended up singing it half a step lower than normal but it turned out alright. And then I really needed some water halfway through "Mind This Mind", but the show must go on, right? Overall I felt good about the evening.
After my set I ran into a lovely woman at the bar who really enjoyed it. It's always nice to get good feedback from someone you don't know. Makes you think you might not totally suck.